Does the idea of unwinding at home with a delicious beverage and moisturizing facemask sound much-needed right now? Then chances are you Fakecation like 'The Relaxer'.
Good news! Your in-house all-inclusive starts now. Here's some inspiration to help you get your mind and body refreshed!
Your Oasis Fakecation Guide
To start, find your favourite quiet space at home where you can stretch out and relax. Then grab a tropical towel, stream the beach on your laptop, hit play on a relaxing playlist, turn on a fan (for that ocean breeze effect), pick up a good book and let the relaxation commence. Keep reading for more ideas to help you get your 'ahhhhh' on.
Enjoy a tropical drink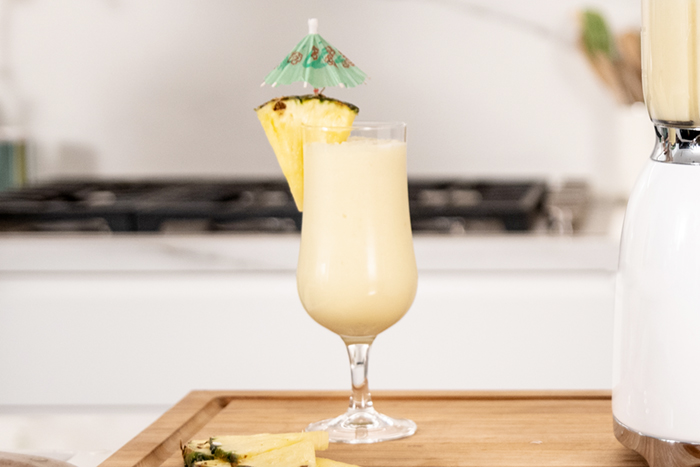 Nothing says escaping routine like enjoying your first of many tropical drinks. Here's how to get that experience at home (no tip required!). Today, we'll be making a simple and easy Piña Colada recipe that's easy to make at home.
Servings: This recipe is made to serve 1 person.
Ingredients you'll need:
1 pound (about 3 cups) fresh or frozen pineapple chunks
2/3 cup coconut milk
3 ice cubes (optional if using frozen pineapple chunks)
optional garnishes: fresh pineapple slices and maraschino cherries.
Directions
To make, simply mix all your ingredients together in a blender.
Blend until it's as smooth as you'd like.
To really get the party started, you can add a splash of rum (enjoy responsibly)!

Make a mini umbrella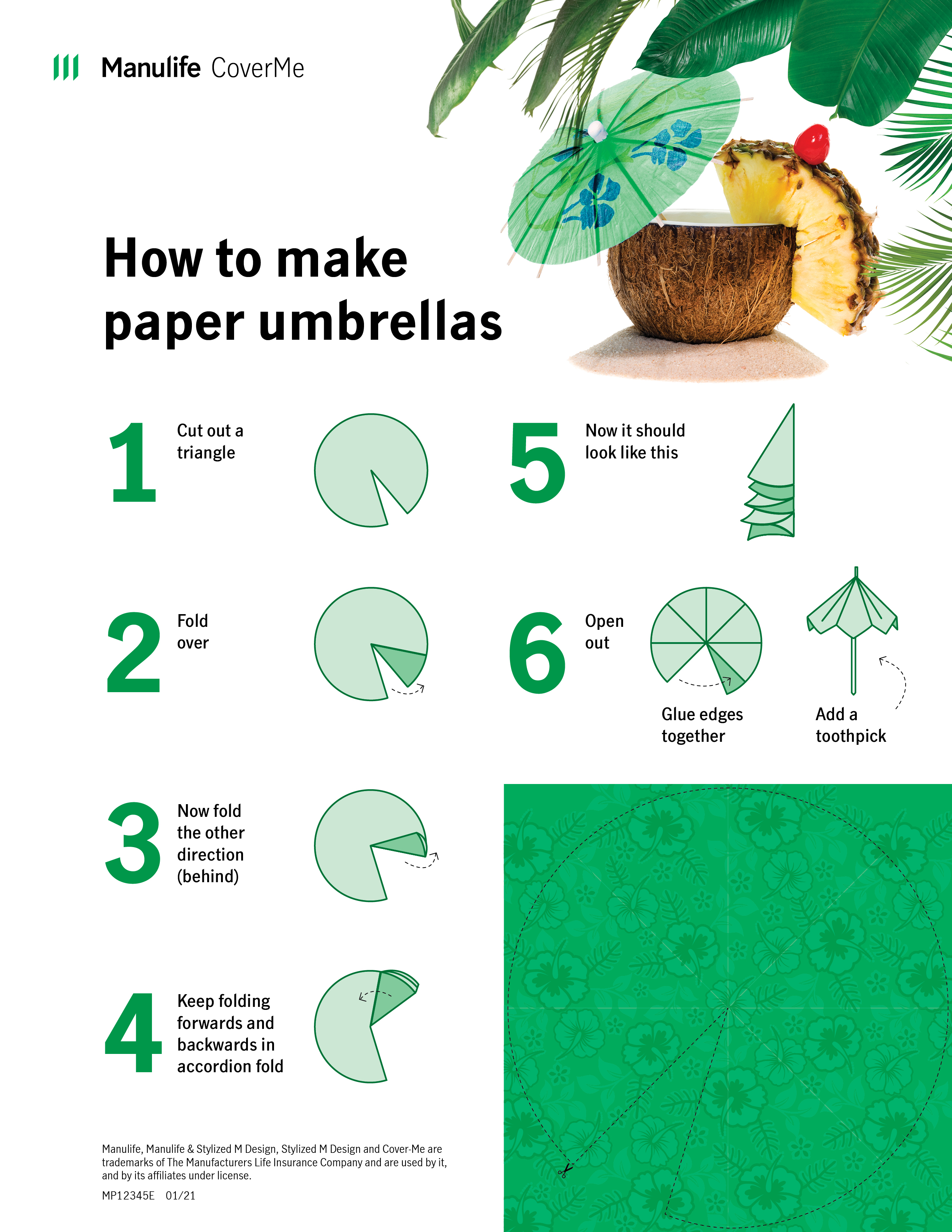 Is it even a tropical drink if it doesn't have an umbrella in it? We'll leave that for you to answer. And we'll also leave these easy DIY instructions to help you make one yourself.
Visit the spa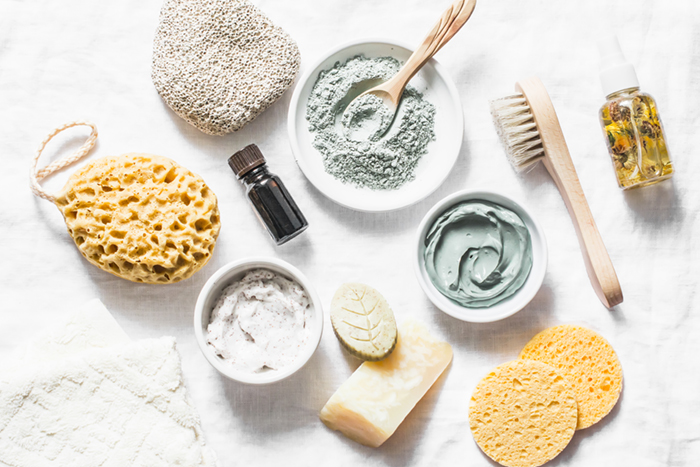 Want a bit more R&R? Then we recommend a trip to the spa! Only this spa is no appointment necessary because it's located in your home! Get ready to indulge in a pampering experience you won't want to end with these spa tips.


1) DIY moisturizing face mask
Winter is here. You know what that means? Dry skin. And while the majority of dry-skin remedies involve heavy oils that can also be pore-clogging, we have a nice remedy for acne-prone skin, that feels tingly and relaxing, too. And the best part? All you need is two ingredients! Avocado and honey.
Avocados have lots of fatty acids, which help soothe and moisturize your dry skin barrier, while honey is a natural hydrator and astringent (commonly used to treat acne and inflammatory skin conditions without drying out or irritating it).
Ingredients you'll need:
1 tablespoon of honey
½ of an avocado, mashed
Directions:
Mix and mash the two together.
Lather all over your face.
Wash off after 10-20 minutes.
Stare into the mirror admiring your smooth skin.

2) Swanify your towels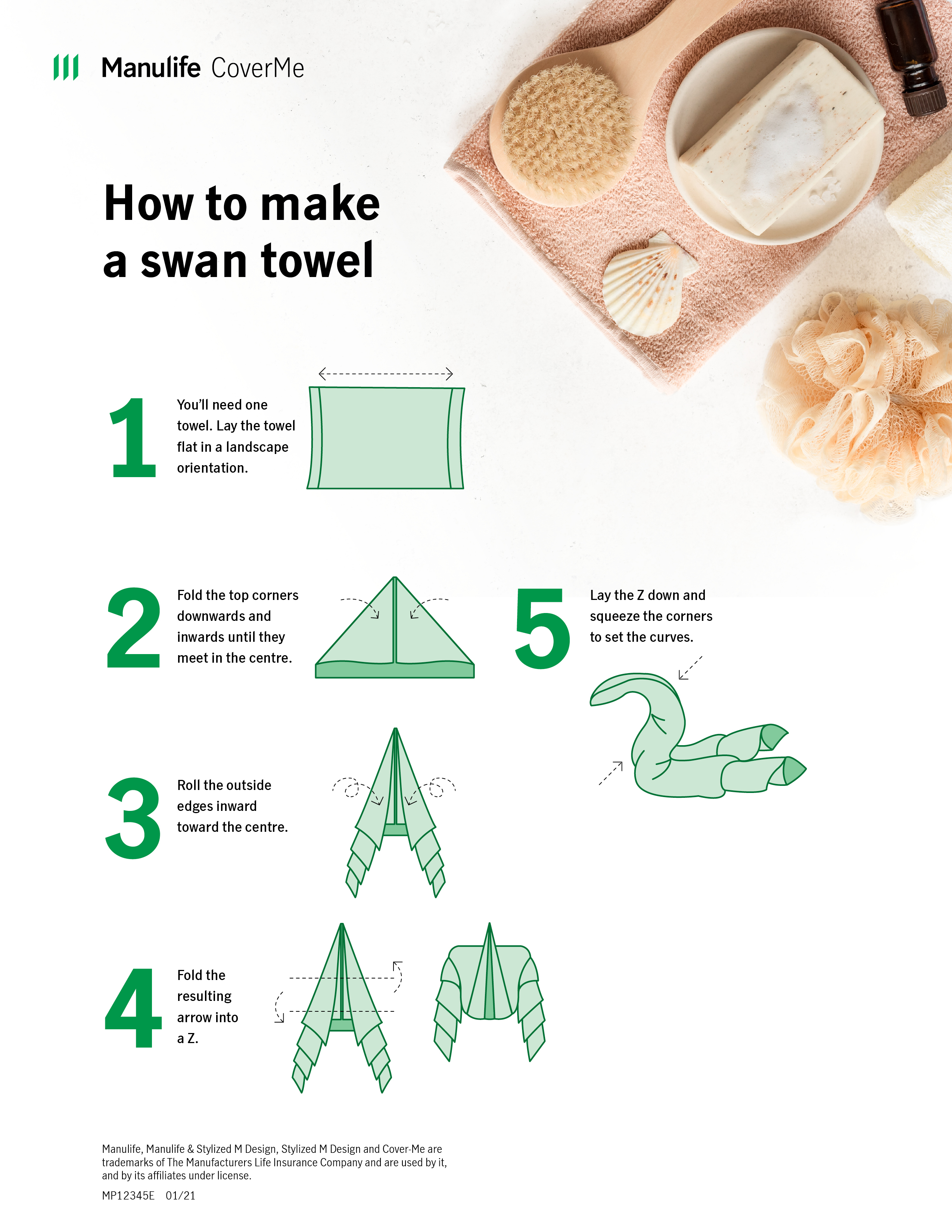 Turn those towels you have folded up in your bathroom cupboard into beautiful, majestic swans with a few simple steps.

3) Draw the perfect bath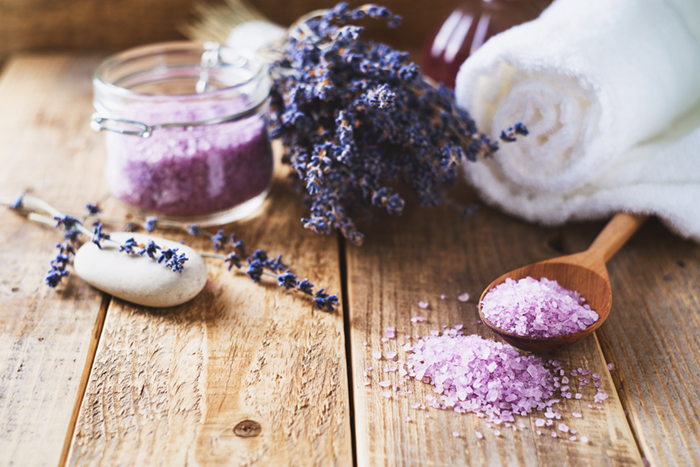 Nothing says "me-time" like a bath that feels like you're in a luxurious hotel. Lucky for you, you can experience that same exact feeling with a few ingredients! And if you don't have some of the items listed below, you can skip those steps and still enjoy an equally serene bath experience.
Ingredients you'll need:
½ cup honey
4 cups of almond milk
1 cup of sweet almond oil
30-50 drops of lavender essential oil
2 cups oatmeal powder (or grinded regular oatmeal)
½ of 1 cup dried lavender buds (optional)
Directions:
Warm up the honey, then mix in with almond milk, sweet almond oil and lavender essential oil.
Separately mix the lavender buds and oatmeal powder, then add it to the mixture and stir well.
Finally, pour the soak mix into a tub filled with warm water. Then indulge in the serene atmosphere you created for yourself.

4) Order "room service"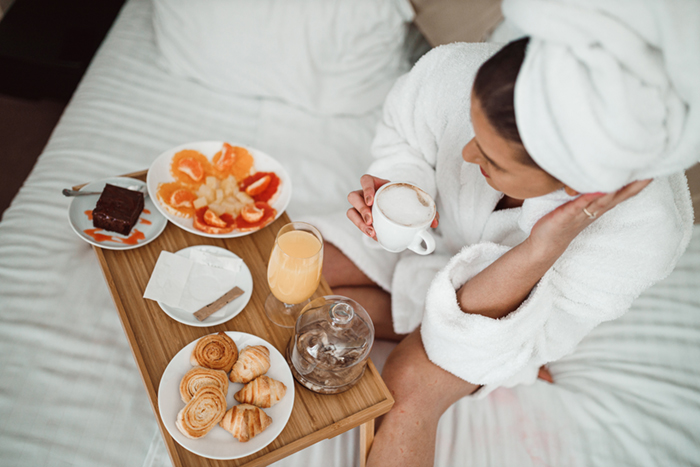 And by room service, we mean ordering food from local restaurants in your community. Not only is this an easy way to recreate what room service is like, but you're also supporting local businesses in a time when they need it most. Food delivery apps are also easy ways to do it, or you can find out on a restaurant's website if they deliver the food themselves.
Enjoy your Fakecation!
We hope these ideas help you plan a Fakecation you'll love. Share it on social with #MyFakecation and don't forget to tag Manulife!