Do you find yourself always looking for new and unique ways too surprise your taste buds? If you're nodding your head, you're what we like to call 'The Foodie' Fakecationer.
Now that we're all at home, it's easy to run out of inspiration and get stuck making the same few meals on rotation. But who says you can't dive into a delicious globally-inspired dish from the comfort of your home? Not us. That's why we have some fun ideas to help you get started.
Your Culinary Fakecation Guide
Ready to discover something you'll love to make? Let's get started with a fresh take on global recipes you can make at home. Then we'll introduce you to some ideas that will help elevate your dining experience!
 
For extra recipe ideas, check out Littlemissottawa.*
Make pasta without a pasta machine
Want authentic pasta, but don't have the tools? We have a recipe that helps you easily recreate the pasta you love, without all the intricate cooking instruments. See the recipe and instructions below.
Servings: This recipe is made to serve 8 people. 
Ingredients you'll need:

2 ¾ cups (350 g) all-purpose flour + more for dusting and rolling
4 large eggs
1 egg yolk
3 teaspoons olive oil
½ teaspoon salt
Tools you'll need:
Rolling pin
Bench scraper or sharp knife
Directions:

Mix your dough: Place the flour into a pile on the countertop. Create a large well or crater in the center, big enough to hold the eggs and olive oil inside it. Place the eggs, yolk, olive oil and salt into the well, then use a fork to whisk the eggs and oil.

Continue whisking the eggs but begin pulling in bits of flour from inside the well. With a stirring motion, go slowly to avoid any eggs breaking through the bowl of flour. (If the eggs break through your flour while mixing, just push some more flour up against the break-through with your hand and continue mixing).

Keep on mixing until the dough starts to come together and the eggs have been blended. The dough will be damp and chunky in some areas and loose in others, and the mixture will still be a little floury. To fix this, use your hands or a bench scraper to continue bringing the damp and crumbled dough together.


Knead your dough: When the dough looks intact, but still a bit loose, form it into a ball, and knead for about 10 minutes against the counter. The dough will be rough at first, but it should begin to tighten up and smooth out as you continue kneading.

If the dough sticks to your hands, dust the countertop with a little more flour. The result should be a soft, elastic dough that feels smooth and isn't sticky.


Wrap your dough: Use a plastic wrap to wrap your dough and let it rest on your counter for an hour. After an hour, refrigerate the dough for tomorrow (no more than 24 hours), or freeze the dough.

(To freeze a ball of pasta dough, wrap it tightly in plastic wrap then set it inside a zip-top bag with the air squeezed out of it.)


Roll out your pasta: Once your dough has finished resting, shape it into a log and cut it into 5 or 6 equal sections. Leave out one section and wrap the others in plastic so you can make the noodles in small batches (This way the dough will not dry out as you are making the noodles).

With a floured counter, use your rolling pin to roll out the dough into a long strip. With each roll, lift the dough up, re-dust the counter beneath, and flip it over. When you're finished, you should have a long, thin piece of dough that's paper thin, but strong enough to be taken off the counter.


Loosely fold your pasta: Dust the strip of dough with more flour, then start with the short end to loosely fold it like an accordion (This kind of fold helps prevent the dough from sticking to itself).


Cut the stack into strips: Use a very sharp knife to cut the stack across the folds into thin strips. You can cut the strips as thin or as a thick as you prefer (like thin linguini or like wide fettuccine), but try to stay consistent otherwise the noodles will cook at different rates.


Dry your noodles: Unroll the bundle of noodles and lay them along your dining room table, or the back of a chair. Let them dry for about 15 minutes. You can continue rolling and cutting the rest of the pasta during this time.


Use or freeze your noodles: You can use the noodles to cook or freeze them for later.

If you're going to freeze the noodles, gather them into several small, loose bundles and place them on a well-floured baking sheet, then freeze. Once frozen, transfer into a large zip-top bag, and use as needed. Frozen noodles will keep for 9 months.


Cook your noodles: Bring a pot of well-salted water to a boil. Add the fresh or frozen pasta and cook for 4 to 5 minutes, until chewy and al dente (taste one of the noodles to see for yourself!). Serve with your favourite sauce, which leads us to our next delicious recipe!
Homemade white pesto
Now that you have your delicious pasta ready, it's time to create your very own sauce. Follow the steps below for an easy and flavourful homemade recipe that you can call your own. We won't tell anyone.
Servings: This recipe is made to serve 4 people.
Ingredients you'll need: 

½ cup walnuts and Kosher salt

4 oz. fresh ricotta and Zest of 1 lemon

1 garlic clove, finely grated
2 tsp. finely chopped oregano
2 oz. finely grated Parmesan (about 1½ cups), and more for serving

¼ cup extra-virgin olive oil and freshly ground black pepper

1 lb. tube or rod-shaped pasta (such as rigatoni or spaghetti)
Directions:

Preheat oven to 350°. Toast walnuts on a rimmed baking sheet, tossing it one time, until golden brown, 6–8 minutes. Let it cool, then finely chop to your liking. Then bring a large pot of salted water to a boil.

Mix walnuts, ricotta, lemon zest, garlic, oregano, and 2 oz. Parmesan in a large bowl until it's all combined. Add oil one tbsp. or so at a time, stirring well after each addition until all the oil is incorporated. Then season pesto with salt and pepper.

Cook pasta in a pot of boiling water, stirring occasionally, until al dente. Scoop one cup of pasta cooking liquid into the bowl with pesto and stir gently to combine. Using tongs or a slotted spoon, transfer the pasta directly to the bowl with pesto. If you've already made pasta from our other recipe, simply transfer the pasta into the bowl with pesto.

Mix until pesto has thickened enough to lightly coat the pasta. The pasta should have sauce clinging to it but there should also be some extra sauce that collects in bottom of bowl.
Divide pasta among bowls and serve your delicious new sauce. Oh, and don't forget to have some extra Parmesan nearby for sprinkling over.


Create a signature cocktail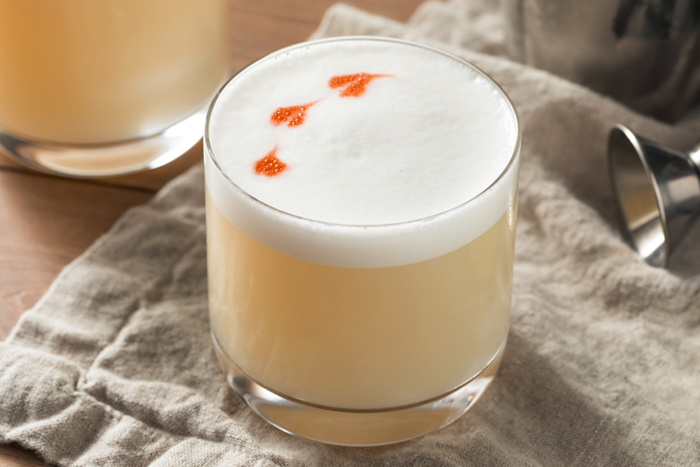 Getting bored of the usual beverages you make at home? Why not make a signature drink from a restaurant you love? Try looking up your favourite restaurant's drink menu and then searching for similar recipes online. In the meantime, here's a delicious Elderflower-Scotch Sour recipe for some inspiration.
Ingredients you'll need: 
2 oz. light blended scotch

1 oz. lemon

¼ oz. honey syrup

¾ oz. elderflower liqueur

A pinch of sweetener

1 egg white 
Directions:

In a cocktail shaker without ice, combine your light blended scotch, elderflower liqueur, an ounce of fresh lemon juice, honey syrup and one egg white.
Shake everything up without ice— otherwise known as a "dry shake" — and then add ice and shake again for a "wet shake," to chill it down. Then strain it all into a cocktail glass and garnish with a thin lemon wheel.
Sip and enjoy responsibly!

Create the ambiance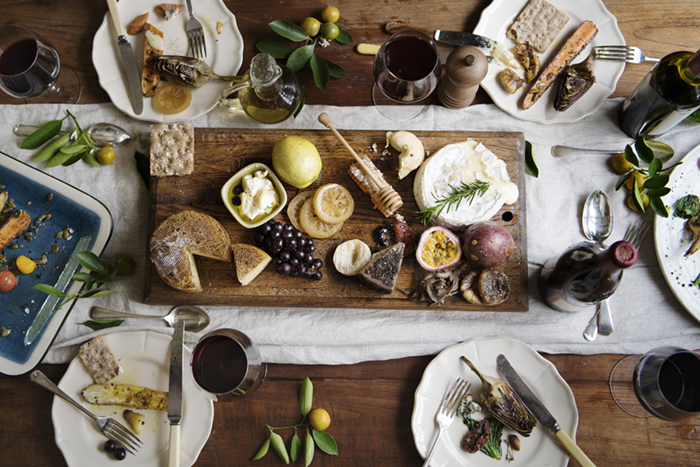 Now that you have your delicious recipes, here are some ideas on how you can elevate your meals to the next level, all at home.
1) Set the mood
Using the proper lighting can instantly create a luxurious setting in your home without doing much. All you have to do is turn off or dim the lights and add a few candles to the table. Not only does it add a warm and inviting feeling to the room, but it truly makes you feel like you're somewhere else (like a fancy restaurant).
2) Turn up the music
By adding an element of music to the table, you instantly block out less desirable sounds like screaming kids, garbage trucks and construction. For something beautiful and elegant music, try this.
3) Dress the part
Showing up to the table presentable and put together not only makes you feel good, but it lets your loved ones know that you're taking this meal seriously. Plus, it's not like we're dressing up as much these days, so it's a nice way of changing up the routine for everyone in the house.
4) Fold a fancy napkin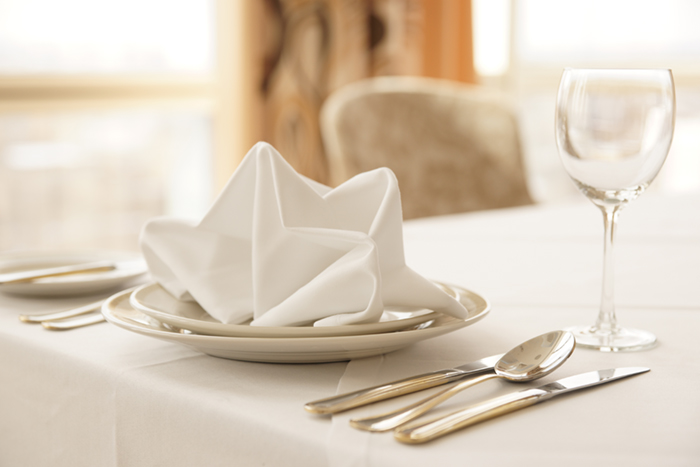 Folding a fancy napkin isn't just an impressive party trick, it's a small, but impactful touch that makes any meal you're making look even better. Click here to make one yourself.

5) Make a reservation sign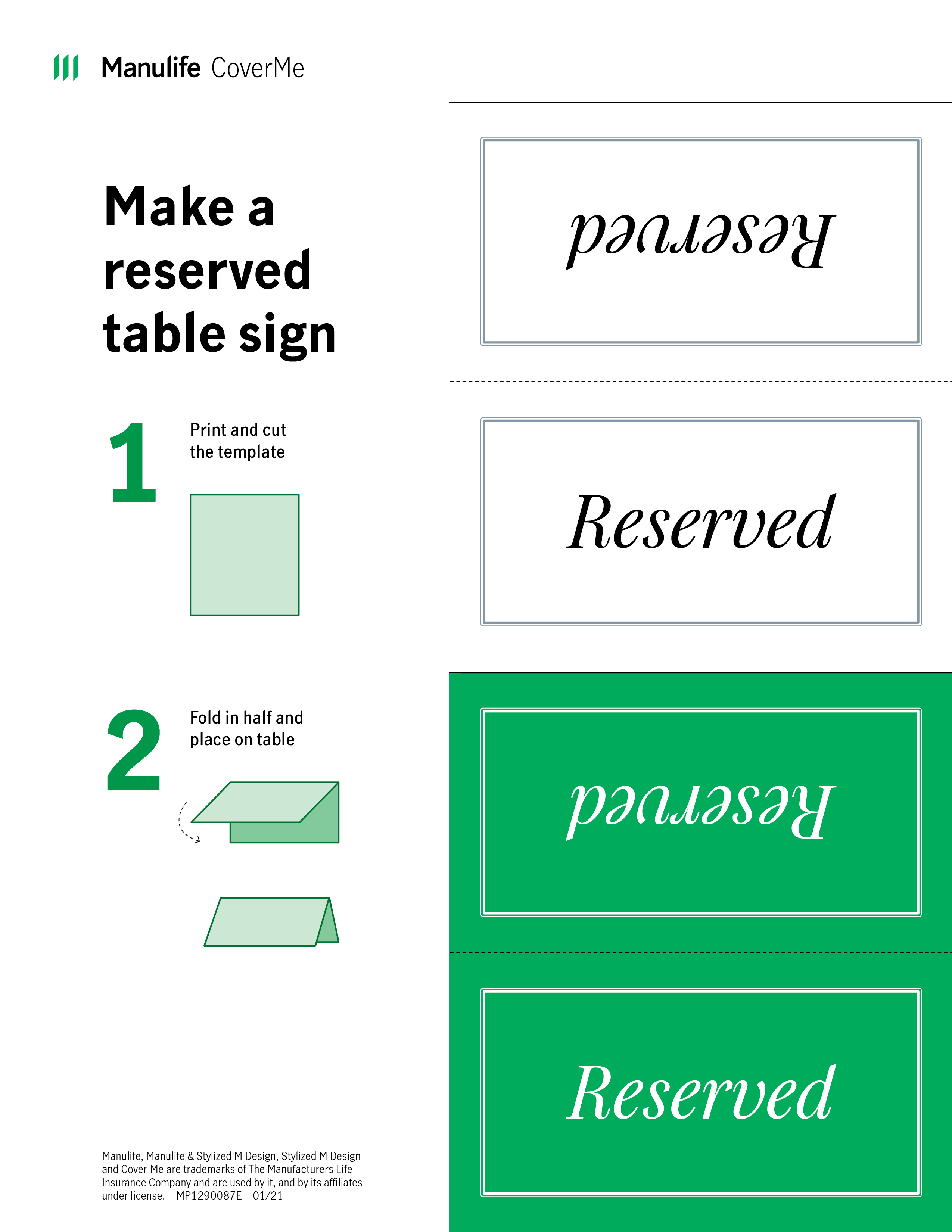 Adding a reservation sign to your table gives you the same VIP treatment as in a restaurant, except it's in the comfort of your home. And in these times, who doesn't want a little VIP treatment every now and then? Feel free to cut and print out the example sign below for your own table, or enlarge it on your tablet or mobile screen and set it on the table digitally!

6)Master the silverware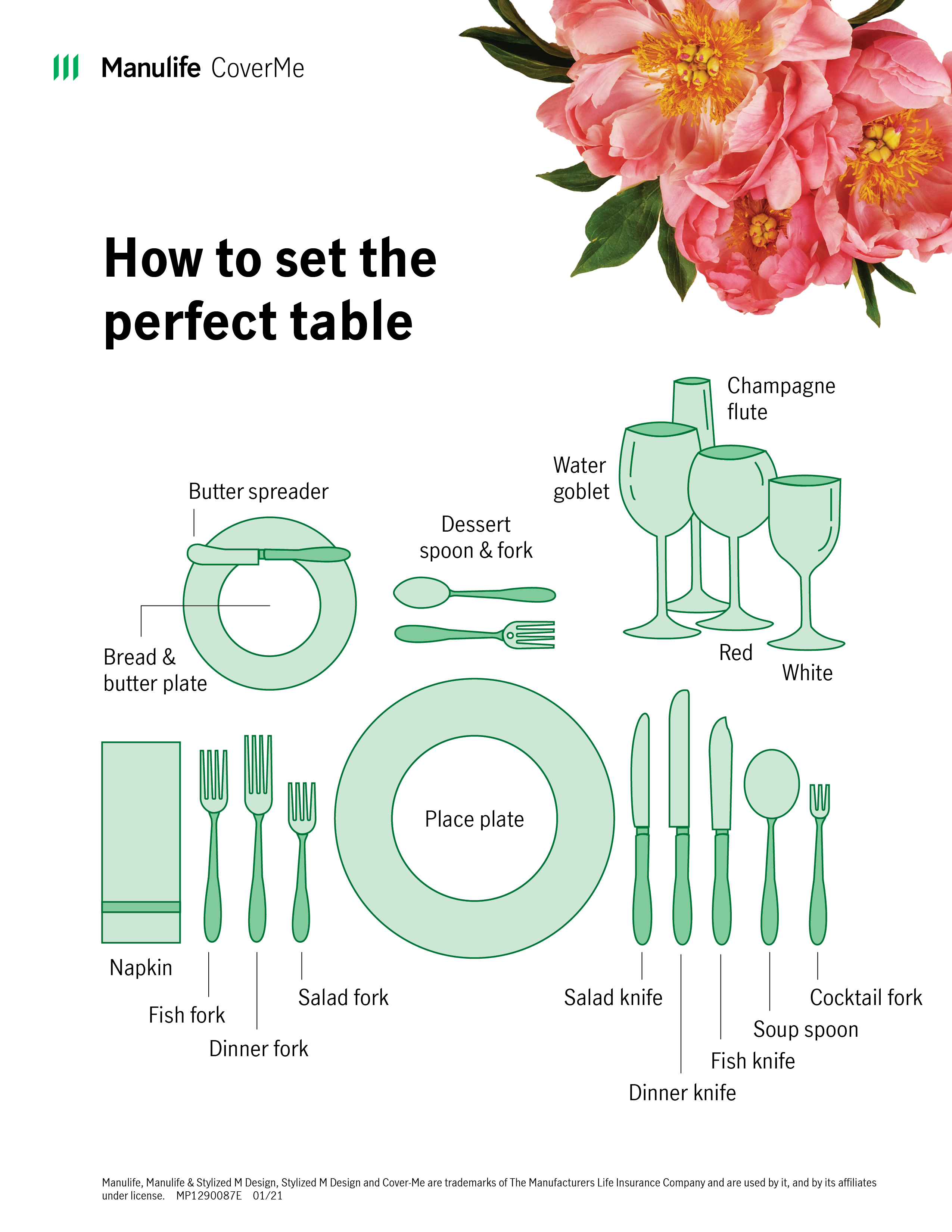 If you're feeling extra fancy, setting the table the proper way can feel rewarding once the job is complete. You'll feel accomplished and will have acquired a new skill you can show off at your parents', in-laws' or friends' homes (once it's safe, of course). Here's an example of how you can set the table the proper, "fancy" way.
Enjoy your Fakecation!
We hope these ideas help you plan a Fakecation you'll love. Share it on social with #MyFakecation and don't forget to tag Manulife!
*Content shared by Littlemissottawa is in paid association with Manulife.