If the majority of your days are now spent with the kids by your side (or on your laptops), then you most definitely Fakecation like 'The Family'.
Ready to add a little something different to the family routine at home? Here are some fun ideas to help you create a few memories inside!
Your Campout Fakecation Guide
Get the kids excited by bringing the adventures of the outdoors in. Create an overnight campout in your living room, complete with a tent, entertainment, snacks and ghost stories, of course.
Tent set up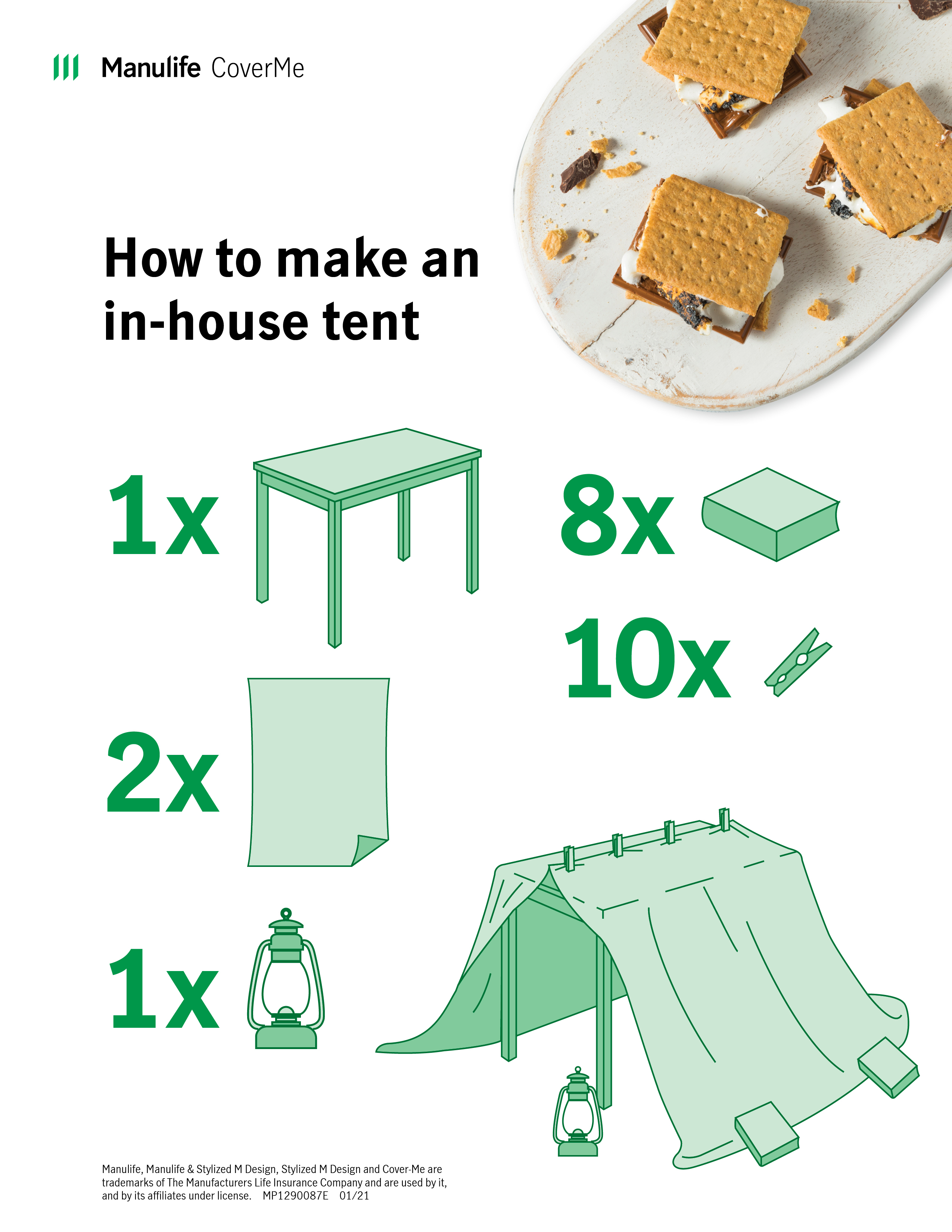 Create the perfect indoor tent to entertain the kids with items you already have at home. Here's one example to help you get started, but feel free to improvise with the props you have lying around.
Supplies you'll need:
Sleeping bags
Pillows
Flashlights/Lanterns
Two big sheets
One table
Ten clothespins
Eight books or weighted items (to hold the sheets)
Ghost stories (real books or improvised ones!)

Directions:
Take one table and drape two sheets over it.
Connect them using your clothes pins.
Place your couch pillows on either end of the tent set up to create entry doors.
Place your books or weighted items around the bottom of the sheets to hold it together.
Bring all your entertainment and nighttime accessories like sleeping bags, pillows, ghost stories and flashlights.
Get ready for the most exciting adventure at home!

Sleep under the stars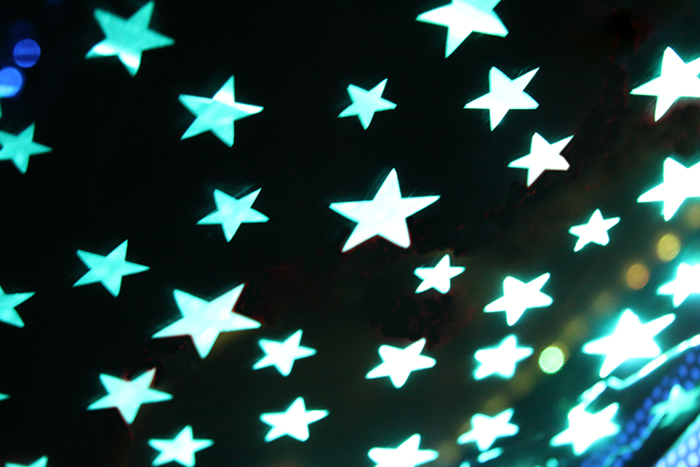 One of the best parts about the great outdoors is the blanket of stars that comfort you at night. Here's how you can recreate this magical feeling with your kids.
Supplies you'll need:
Recycled cereal box or cardboard
White craft paint
Glow in the dark spray paint*
Glue dots or wall putty
Scissors

*NOTE: If you are concerned about using spray paint, there are other glow in the dark paint options available at your home improvement store to purchase online.
Step one:
Draw stars and a moon onto the recycled cereal box or cardboard.
Step two:
Paint all of the shapes white and allow them to dry.
Step three:
Use glow in the dark spray paint as directed on the can. Be sure to cover your work surface and spray outside or in the garage with the garage door open. Spray several thin coats (not thick coats) so it takes less time to dry and won't drip as much.
Step four:
When dry, "charge" the glow in the dark paint by exposing your shapes to light for 10-15 minutes. Use wall putty or glue dots to hang on your wall or ceiling and turn out the lights to see the show!

Roast indoor s'mores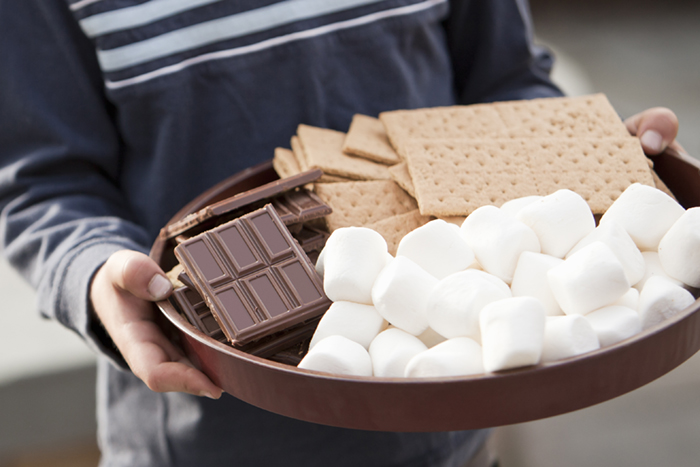 It wouldn't be a complete night without s'mores. And if it's too cold outside where you are, that's okay! Just fire up the stove for this late-night snack.
Serving: amount varies on family size.
Supplies you'll need:
Marshmallows
Graham crackers
Chocolate bars
Metal skewers

Directions:
To roast marshmallows inside your house, place your marshmallow on your metal skewer, then roast it over your gas burner flame using medium-low heat.
Then remove your marshmallow from the flame (once it's warm or gooey depending on how you like it) and enjoy!
Don't have a gas stove? No worries! You can make your s'mores in the oven instead.
First, line your cookie sheet with graham crackers.
Then place your marshmallows on one side of the graham crackers and place chocolate on the other side of the cracker.
Broil for 1-2 minutes, and make sure to keep an eye on them, because they brown quickly!
Finally, you'll want to remove from the oven safely, then create your scrumptious sandwich. And dig in!
Bonus! For a delicious hot cocoa recipe that goes perfectly with your s'mores, click here.

Campfire entertainment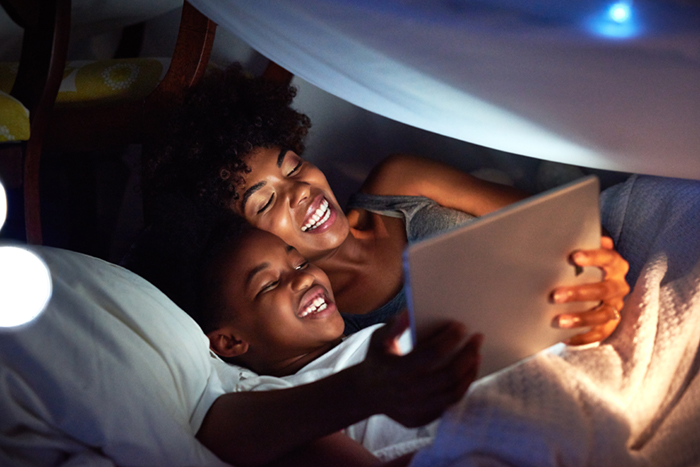 You might not be able to have a real campfire right now, but if you have a fireplace, then that'll definitely do the trick! And for those who don't, don't worry, you can still pretend to be fireside in your own creative way! Here are some ways to keep the family entertained under the "stars".
Play a family board game
Whether it's a virtual game night or in-person, there's nothing like bonding with your family over some fun and friendly competition. If you plan on playing with family virtually, you can find lots of virtual games to play by searching online. Here's one option that you can play with friends and family for free.
Stream a family movie
To take this idea up a notch, we recommend using a projector so you can watch a movie on the living room wall, (just like in the theatres!)
Tell ghost stories
There are so many spooky ghost stories available online. And if you're feeling extra creative, make a story up on the spot as you're telling it to your kids! We recommend holding a flashlight up under your face for an extra spookiness effect.
Enjoy your Fakecation!
We hope these ideas help you plan a Fakecation you'll love. Share it on social with #MyFakecation and don't forget to tag Manulife!