Food for thought: Canadians aren't eating enough fruits and vegetables, and that's a big problem. Getting our daily servings of fruits and veggies is really important to our overall health. Offering us fibre, vitamins, and minerals, fruits and vegetables should always be on our plate. In fact, Canada's Food Guide recommends that fruits and veggies make up 50% of each meal we have.
Chef Donna Borooah shares three recipes that are packed with fruits and veggies. One for breakfast, one for lunch and one for dinner.
But before we dig in, let's meet our chef. Donna became fascinated with food at an early age, learning the craft of baking from her mom, and the art of spice in Indian cooking from her dad. Donna's first role in a kitchen was at Dish Cooking Studio in Toronto, where she developed a relentless curiosity for all things food. Inspired by her peers, Donna studied at the Stratford Chef's School, with a focus on pastry.
Donna's knack for tinkering brought her to the world of recipe writing. As a freelancer, Donna writes, develops, and tests recipes for publications and meal kit companies across Canada. In these roles, Donna refines recipes and focuses flavour into everyday cooking. As an avid fan of Ina Garten and Martha Stewart, you'll find Donna treating friends and family to delicious home-cooked meals whenever possible.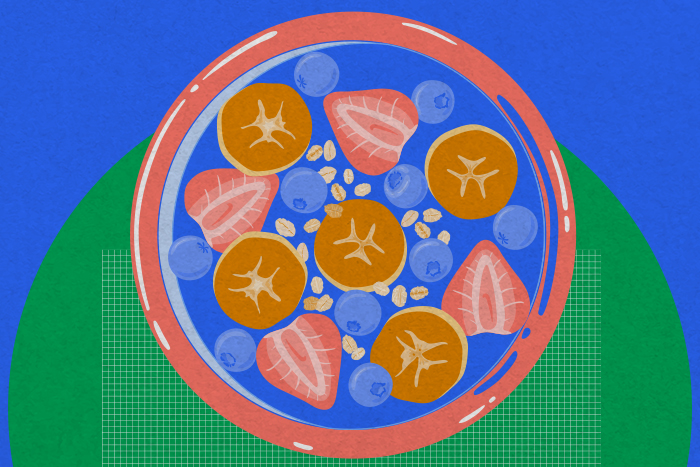 Recipe #1 - Breakfast
Easy Berry Almond Smoothie Bowl (Serves 2)
"Smoothie bowls are an easy and affordable way to get a lot of your daily fruits and vegetables first thing in the morning," says Donna. This recipe also allows for flexibility, as you have the option to use blackberries, blueberries, raspberries, or strawberries. You'll also get a big serving of veggies with this smoothie bowl, and they won't taste as strong when blended in with the berries. Also, "sitting down to savour a smoothie bowl instead of drinking a regular smoothie on the go makes this feel more like a proper meal," says Donna.
¾ cup almond milk
2 tbsp natural almond butter
2 tbsp honey
2 cups frozen mixed berries 
1 frozen banana, chopped
1 cup baby spinach or baby kale
Garnish:
1/3 cup mixed fresh berries
1/2 banana, sliced
2 tbsp sliced almonds, toasted
1 tbsp hemp hearts
Add almond milk, almond butter, and honey into a blender. Top with frozen berries, frozen banana, and spinach. Blend on high speed until very smooth, scraping down sides as needed. Divide among two bowls. Then garnish with some fresh berries, banana slices, almonds, and hemp hearts.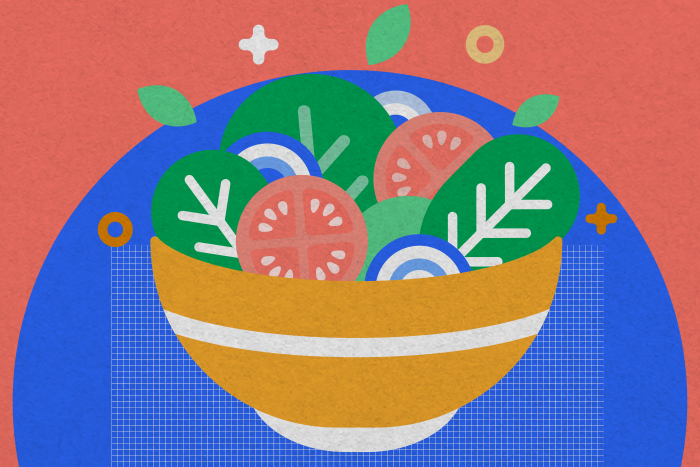 Recipe #2 - Lunch
Wintery Kale Salad (Serves 4)
This kale salad is a great dish to make before a party. Or you can also make it on a Sunday night and enjoy it for lunch at work on Monday and Tuesday. First, make the dressing and place it in the fridge. Then prep the salad. Add apples, fennel, grapes, kale, and walnuts into a bowl or a container, but don't toss until you're ready to enjoy. Drizzle on the dressing just before serving.
Dressing:
1/4 cup Greek yogurt
2 tbsp mayonnaise
1 tbsp lemon juice
2 tsp Dijon mustard
1 tsp honey
2 tbsp finely chopped chives or green onion
Salt and pepper
Salad:
½ cup chopped walnuts
142 g pkg baby kale (about 8 cups)
1 tart apple, cored and thinly sliced
½ fennel bulb, thinly sliced
1 cup red grapes, halved
Place yogurt, mayonnaise, lemon juice, mustard, honey and chives in a large bowl. Whisk or stir until smooth. Season to taste with salt and pepper. 
Heat a skillet over medium heat. Add chopped walnuts to dry pan and toast, stirring often, until fragrant and beginning to brown, about 4 minutes. Transfer to a plate or container to cool. Just before serving, add kale, apple, fennel, grapes, and walnuts to a bowl with dressing. Toss to combine.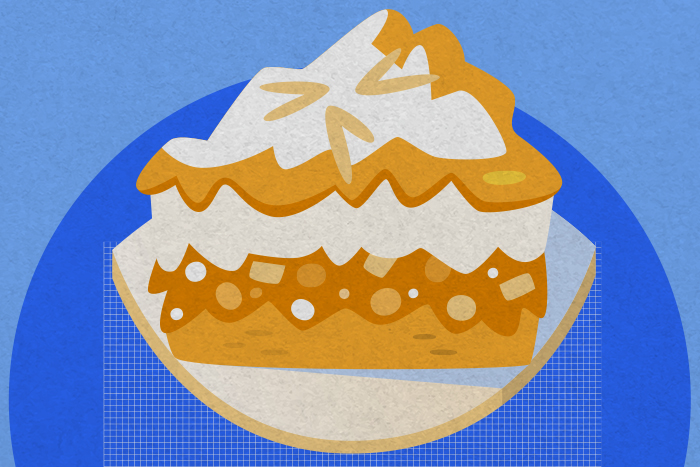 Recipe #3 - Dinner
Veggie Shepherd's Pie (Serves 4 to 6)
"This vegetarian main dish is a one-pot wonder," says Donna. The major ingredient of this pie, which makes this meal so satisfying, is the lentils, which are high in protein and fibre. Also, Donna has this tip for you: "For extra vitamins and minerals, keep the peel on the potatoes."
3 Yukon gold potatoes, peeled and cubed (about 1 lb)
227 g pkg cremini mushrooms
1 onion, roughly chopped
1 carrot, peeled and roughly chopped
2 garlic cloves
2 tbsp olive oil, divided
19 oz can lentils, drained and rinsed
1 cup vegetable broth or water
1 tbsp tomato paste
1 tbsp soy sauce 
1/2 cup frozen green peas
2 tbsp milk or non-dairy milk
Salt and pepper
 
Place potatoes in a medium pot and cover. Make sure there's 1-inch of cold water above the potatoes. Season the water with salt. Bring to a boil over high heat then reduce heat to medium and simmer until tender, 12 to 15 minutes. Drain well.
Meanwhile, pulse mushrooms in a food processor bowl until finely chopped, then transfer to a bowl. Add onion, carrot, and garlic to the food processor and pulse until finely chopped. If you do not have a food processor, finely chop the mushrooms, grate the onion and carrot and mince the garlic.
Heat 1 tbsp oil in a medium oven-safe frying pan over medium-high heat. Add mushrooms and cook until almost no liquid remains, about 5 minutes. Add onion mixture. Cook, stirring often, until soft, 3 to 4 minutes. Stir in lentils, then broth, tomato paste, and soy sauce. Bring to a boil, then reduce heat to medium and cook, stirring often, until saucy, about 10 minutes. Stir in frozen green peas during the last 2 minutes of cooking. Season to taste with salt and pepper.
Preheat broiler. Mash potatoes with milk and remaining oil until smooth. Season to taste with salt and pepper. Spread potato mixture over mushroom mixture. Broil in the centre of the oven until golden brown, 1 to 2 minutes.
Sources:
foodincanada.com. "Canadians' consumption of fruit and vegetables drops 13 percent in 11 years," March 2019.
food-guide.canada.ca. "Eat a variety of healthy foods each day," October 2019.